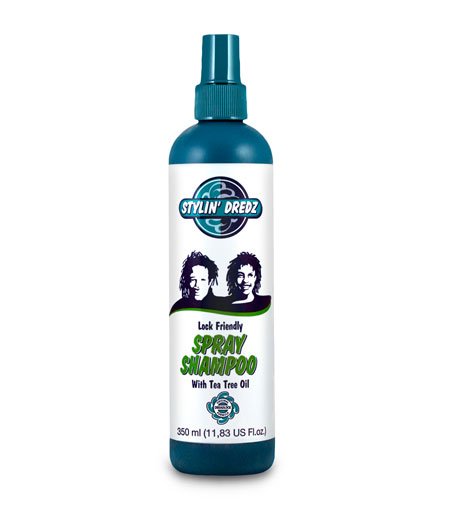 Spray Shampoo
Regular price
Sale price
$6.99
Unit price
per
Product Description: 
RESIDUE FREE - Lifts up and cleans away build-up for residue-free dreadlocks
FOR DREADLOCKS - Dreadlock shampoo is gentle on hair, tough on dirt, it won't detangle dreads

SOOTHES SCALP - Enriched with tea tree oil that tingles while moisturizing and conditioning

THICK LATHER - Special foaming agents create a luxurious lather to clean away dirt and build-up

SHINY, HEALTHY LOCKS - Reduces that dry and itchy feeling and helps to eliminate dandruff
Clean up your cut with Stylin' Dredz Lock friendly Spray Shampoo with Tea-tree oil, specially formulated with foaming agents, creates a thick lather which lifts up and cleans away builds up without detangling your dredz. Stylin' Dredz lock friendly spray shampoo with Tea tree oil tingle on your scalp, reduce that dry and itchy feeling and help to eliminate dandruff.
GENTLY CLEANS
Spray Shampoo for dreads is made with tea tree oil specifically for those caring for and maintaining dreadlocks. Specially formulated with foaming agents, our Spray Shampoo creates a thick lather that lifts up and cleans away build-up without detangling your locks. No need for a second shampoo, this one clarifies and cleans all types of dreadlocks and braids.
GET HEALTHY HAIR
Our residue-free shampoo for dreadlocks is enriched with tea tree oil to moisturize and condition the scalp. This helps to reduce itching and dryness while working to eliminate dandruff and prevents build-up on the scalp. With regular use of Stylin' Dredz Spray Shampoo, your hair will maintain a naturally healthy shine.
EASY TO USE
To use our dreads shampoo, shake well before using. Hold bottle upright about 2 inches from hair and starting at the nape, follow sections of hair and spray throughout. Work the shampoo into the scalp thoroughly. Rinse well with water and towel dry. For finishing, we recommend Moisture Splash Conditioning Spray to keep hair and scalp hydrated.